Partisan Defense Committee Press Release
28 April 2008
Partisan Defense Committee
E-mail: chicagopdc@sbcglobal.net www.partisandefense.org
Contact: Mark Kerman (312) 563-0442

Chicago April 26 United Front Protest
Over 200 Demand:
"Free Mumia Abu-Jamal Now!"

CHICAGO—On Saturday, April 26, over 200 trade unionists, students, socialists, black nationalists, death penalty abolitionists and anti-racist activists rallied at Chicago's federal plaza to demand immediate freedom for death row political prisoner Mumia Abu-Jamal. The Chicago rally, and a rally the same day in Los Angeles that drew over 100, concluded a series of united-front protests around the world initiated by the Partisan Defense Committee and Labor Black Leagues in the U.S. and the PDC's fraternal defense organizations, as part of an international campaign to free Mumia that was heavily built by the Spartacist League. From April 19 to 26, united front protests were held in Oakland, Toronto, Mexico City, London, and Sydney, Australia. The PDC also built class-struggle contingents for an April 19 demonstration initiated by the International Concerned Family and Friends of Mumia Abu-Jamal in Philadelphia, and for rallies in Paris on April 19 and Berlin on April 12. These protests were called in response to the March 27 U.S. Third Circuit Court of Appeals decision upholding Mumia's frame-up conviction.
The PDC-initiated united front protests—under the slogans "Mumia Abu-Jamal Is Innocent! Free Mumia Now! Abolish the Racist Death Penalty!"—won endorsements from over 300 individuals, organizations and trade unions representing hundreds of thousands of workers, including Amalgamated Transit Union Locals 241 and 308, UAW Local 3212 and AFSCME Local 3506 in Chicago. The thirteen speakers at the Chicago protest represented a broad diversity of political and union organizations united in fighting for Mumia's freedom on the basis that he is an innocent man.
Virtually every speaker expressed outrage at Friday's acquittal of the New York City cops who gunned down Sean Bell with 50 shots, drawing the connections to the "legal" lynching of Mumia. A Gay Liberation Network (GLN) sign read: "American 'Justice': Cops who killed Sean Bell walk free, while Mumia rots in prison." Bernard Branche, speaking for the Labor Black Struggle League, pointed out that "two of the cops who murdered Sean Bell were black and in gunning down a black youth they were just doing their jobs in the eyes of the racist rulers. We seek to mobilize labor in protest against these outrages while explaining to the masses that things like racist cop terror can only be ended when the class that the cops protect is removed from power by the working class." Jokarhi Shakur-El of the Black Panther Party remarked: "They get acquitted, but yet they have Mumia locked down for a crime that he did not commit. It's a double standard." Bob Schwartz of the GLN said: "Yesterday I saw a prominent politician on television stating that we must respect the court decision that exonerated the killers of Sean Bell. Now who was that politician? That's right, it was Barack Obama. It wasn't George Bush, or John McCain, although it could have been, but it was Barack Obama. I'm sure that no one here, or I hope no one here, has illusions in Obama or in any other capitalist politician to bring about liberation."
"From the age of 14 Mumia raised his voice—as a Black Panther Party member, as an outspoken journalist, as a MOVE supporter," said Rachel Wolkenstein, PDC counsel and a member of Mumia's legal team from 1995 to 1999. "And for that Mumia was framed up for the killing of a Philadelphia police officer in 1981. Mumia's only crime is his unbending opposition to racism, police brutality, poverty, imperialist war and colonial depredations and injustices—from Iraq, Afghanistan, to Puerto Rico. The voice of the voiceless fights not only for the rights of blacks in the U.S., but for the oppressed around the globe." Wolkenstein cited Mumia's statement in an interview with Fred Hampton, Jr., after the Third Circuit decision: "I think for many people, especially for those in the establishment, I represent, in many ways, their greatest nightmare," Mumia said. "What they fear is the black revolution reigniting."
"Mumia is an innocent man, being held in prison, falsely accused of shooting a police officer," said Mike Elliott, chair of the UAW Local 551 standing committee. Elliott pointed to the mountain of evidence proving Mumia's innocence, including the confession of Arnold Beverly that he, not Mumia, shot the police officer, a confession the bourgeois courts have consistently refused to hear. "Because here he is an innocent man who's faced death, who's been in prison for all those years, there's a person who has taken responsibility, and all the evidence points to this person as being the shooter of the police officer, and yet they keep Mumia in jail because of his political consciousness, his political activism and his outspokenness, and because he is a leader, they want to keep him suppressed and oppressed and locked up. And I say we have to fight against that."
Brian Mendis, the PDC moderator for the rally, said that the recent Third Circuit ruling "should make clear to all those who are committed to the fight to free this innocent man that he can get no justice at the hands of the very forces that framed him up and sentenced him to die in the first place." Wolkenstein called the Third Circuit decision "an outrage, like the infamous Dred Scott decision, in which the black-robed judges declare, yet again, that Mumia—a fighter for black freedom—has no rights that the courts are bound to respect. The decision is an outrage, but not a surprise. The capitalist state has targeted Mumia since he was a teenager."
"Whatever we have to do to awake the people, to awake the press, we're going to make it like old times and keep it going," said Bill Hampton, brother of Fred Hampton, the Chicago Black Panther Party leader assassinated with Mark Clark by the Chicago cops in 1969. "Because we believe and we know that Mumia is innocent. We know he belongs out here with the people. He's part of the people." "Mumia's freedom will not be won through reliance on the rigged justice system or on the capitalist politicians whether Democratic or Republican or Green," said Mendis for the PDC. "The power that can turn the tide is the power of millions—working people, anti-racist youth, death penalty abolitionists, united in struggle to demand the freedom of this innocent man. Crucial to this perspective is the mobilization of the labor movement."
Over a dozen transit workers from ATU Locals 241 (bus) and 308 (rail) participated in the rally, and raised the Local 308 banner by the stage. Mike Wallace, an executive board member of Local 241 explained that his union of some 6,000 is the largest bus operators union in the U.S. "241 has been in support of Mumia and his cause. We have passed a resolution at our last board meeting in support of this event and of free Mumia. Along with our sister union Local 308 we will continue to support Mumia until he is free! Free Mumia!"
Students mobilized for the protest from campuses across Chicago, including from University of Illinois at Chicago, University of Chicago, DePaul University, Chicago State University, and Northeastern University, as well as from Waukegan, Illinois and Michigan. Campus endorsers included the Black Student Union at DePaul, MEChA and Students for a Democratic Society at University of Chicago, and UIC professors David Stovall and William Ayers. "We in the Spartacus Youth Club have been going from campus to campus," said Tom Allegri of the SYC. "We're going around the campuses and we're mobilizing students and radical youth behind the power of labor to demand Mumia's freedom." Allegri criticized reformist socialists like the Revolutionary Communist Party, International Socialist Organization, Party for Socialism and Liberation (PSL) and Workers World Party which demobilized the movement defending Mumia by preaching reliance on the "justice" of the capitalist courts: "With Mumia's case, the reformists build faith in the capitalist system, as expressed in their calls for a new, fair trial. Contrary to these deadly illusions, we have always said that the state is not neutral!" Some individuals from the League for a Revolutionary Party, the Campaign to End the Death Penalty and the PSL attended the Chicago protest, although these groups did not endorse it.
The rally provided a powerful platform linking the fight for Mumia's freedom to broader struggles against capitalist state repression, oppression and exploitation. "Mumia's case represents three important struggles of this century—the struggle to abolish the racist death machine; the struggle to combat police corruption and police violence, the kind of activities that we saw in New York in Sean Bell's case, that struggle is still going on; thirdly, the struggle to free political prisoners," said civil rights attorney Stan Willis. "Mumia's case is so important because it embodies all of those." Exonerated former death row prisoner Delbert Tibbs endorsed and attended the protest in Chicago.
Glenna Swinford spoke for the Freightliner 5, UAW Local 3520 members in Cleveland, North Carolina who were fired for leading a strike against the company. "Our struggles about wrongful terminations, workers rights, and a contract that would guarantee good pay, health care, retirement and workers safety; these are issues worth fighting for, and fighting for and losing your jobs for," said Swinford. "Mumia is fighting for his life, his freedom, and wrongful incarceration. This is a battle he has fought for over 25 years. The justice system has failed him, but he still keeps fighting for his freedom, and the Freightliner 5 will continue to fight for ours."
"If anybody believes that there is going to be justice in this system, let me tell you, I'm sorry, but you're wrong," said immigrant rights activist Jorge Mujica, Co-Coordinator of the March 10th Committee. Mujica linked the struggle to free Mumia and the on-going struggle for immigrant rights and against state repression, pointing to the executions of Sacco and Vanzetti and the Rosenbergs: "We are here to remember each one of those people that have been killed, assassinated by this system, and the system keeps going on. And now they have Mumia in jail. Again they want to do the same thing. And then maybe in the year 2080 they will say, 'Oops, we were wrong, sorry.' We can't let them do that. We can't let them continue doing that." Pointing to the upcoming May 1st immigrant rights protest, Mujica emphasized the ideas and militancy that immigrant workers have historically injected into the American labor movement: "Immigrants brought labor unions to this country, immigrants brought the ideas of socialism, of striking, of demonstrating for your rights, of fighting."
Schwartz of the GLN pointed to the connections between the fight for gay rights and the struggles against black oppression and women's oppression, noting that Mumia has supported the cause of gay rights. Rally participants were urged to take up defense of GLN co-founder Andy Thayer, an endorser of the Mumia protest, who faces bogus felony charges from a January protest against George Bush.
The protesters heard a taped April 5 commentary by Mumia, "When Courts Go Wrong": "Courts were set up to protect the wealth and property of the powerful, not the powerless; and any honest reading of legal history leads one back to that conclusion." Earl Silbar, a retired member of AFSCME Local 3506, spoke of the power of Mumia's journalism: "What he does is he looks very concretely. He has a worldview, he understands capitalism, he understands racism, he understands struggle, but what he does is he's very concrete about the daily realities of living and the daily experiences, and it's from his mastery of that situation that he can make the relationships to the larger picture."
A speech was played by Mumia's daughter, Goldii, from a March 28 PDC demonstration in New York City. She stated: "Mumia Abu-Jamal is guilty of nothing. He is an innocent man and his life is at stake by the state for nothing, because of his political beliefs. We need to let people know, all the people out here on the streets, Mumia Abu-Jamal is an innocent man! We will not let him die!" Greetings were also read from Mumia's son Jamal Hart, himself in federal prison on bogus weapons charges, framed because of his fight for his father's freedom: "Comrades, these liars must be exposed for their gross negligence of intentional misconduct by executing a man they know is innocent because he did not do this crime. Abolish the death penalty! Free Mumia now!"
"We have the seeds of Mumia's only hope for freedom here at this rally today, the power of labor," said Paula Daniels, of the Spartacist League. "Labor needs a leadership based on the independence of the working class from the bosses' state and political parties, not one tying us to the Democratic Party. Imagine if the unions had a class struggle leadership who waged strikes instead of cutting deals, who supported strikes instead of calling them 'illegal,' that promoted international labor solidarity instead of pushing poisonous chauvinist protectionism, and a labor movement that took up the struggle for all the oppressed from Mumia to immigrants to gay rights, etc., etc. We would be operating from a position of power not prostration. The fight to free Mumia and all the class war prisoners, the fight to abolish the racist death penalty, is inseparable from the struggle for workers rule."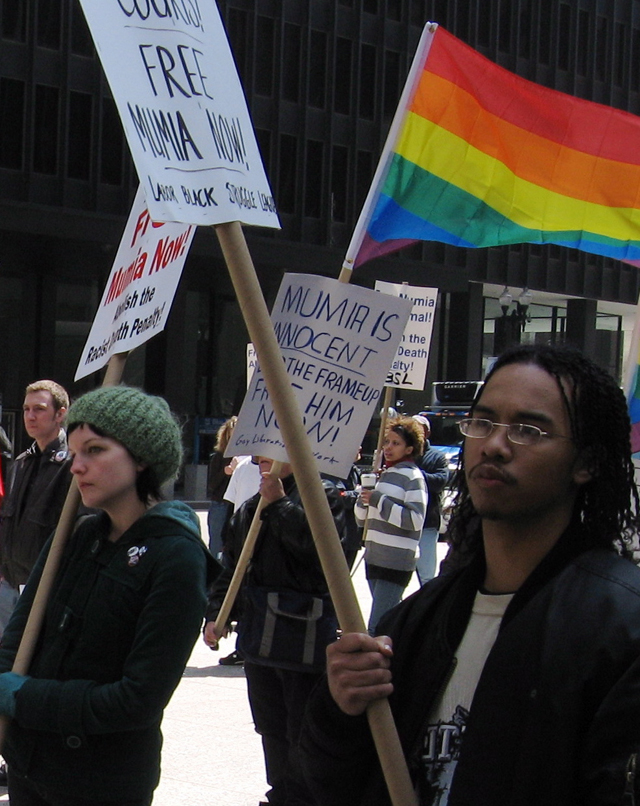 Photo caption CHICAGO—Over 200 trade unionists, students, socialists, black nationalists, death penalty abolitionists and anti-racist activists protested at the Chicago Federal Plaza on Saturday, April 26 demanding "Mumia Abu-Jamal Is Innocent! Free Mumia Now! Abolish the Racist Death Penalty!" The united-front protest was initiated by the Partisan Defense Committee and Labor Black Struggle League as part of a series of rallies worldwide demanding Mumia's freedom. Endorsers of the protests included over 300 individuals, organizations and trade unions representing hundreds of thousands of workers, including Amalgamated Transit Union Locals 241 and 308, UAW Local 3212 and AFSCME Local 3506 in Chicago. [photo credit: Partisan Defense Committee]
* * * * *
The PDC is a class-struggle, non-sectarian legal and social defense organization which champions cases and causes in the interest of the whole of the working people. This purpose is in accordance with the political views of the Spartacist League.