Articles From
Class-Struggle
Defense Notes
No. 34, Spring 2006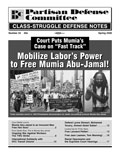 Mumia Abu-Jamal Is an Innocent Man—Free Him Now! • Ongoing War Against Workers: The TWU Strike • International Solidarity with NYC Transit Unions! • Defend Lynne Stewart, Mohamed Yousry, Ahmed Abdel Sattar! • Free Leonard Peltier! • Richard Williams • Free Jaan Laaman, Tom Manning! • Racial Oppression and the Supreme Court Hearings • Financial Statements • Account Receipts

Free Jaan Laaman, Tom Manning!

In April 2005, we added Tom Manning to our prisoner stipend program along with his comrades Jaan Laaman and Richard Williams, as we had with Ray Luc Levasseur up through his release in 2004. Now Tom Manning and Jaan Laaman are the last two Ohio 7 prisoners still incarcerated, and if the U.S. government has its way, they will spend the rest of their lives behind bars.
Like Williams, Manning grew up poor and working class. He was sent to Vietnam, where he saw the atrocities of U.S. imperialism up close. In the 1970s and '80s, he worked with other leftist radicals in community organizing, prisoner support and welfare advocacy. In a 7 June 1999 statement, Manning wrote: "I am a Freedom Fighter who took up arms to support and defend an International Movement for Human Rights, Self Determination, Justice and Dignity for all Peoples."
Manning spent years in continual lockdown in some of the worst hellholes of the prison system—USP Marion (Illinois) and USP Florence ADMAX (Colorado), a sensory deprivation unit of steel and concrete with no sound and minimal human contact, designed to break prisoners. Manning is currently at USP Hazelton (West Virginia).
The PDC received a letter dated 27 November 2005, from Jaan Laaman in which he wrote, "This year I came across some profound new evidence and I now have a possibility of reopening and challenging my entire [Massachusetts] conviction and sentence. I have always maintained my innocence in this case and now I may finally be able to prove it."
If Jaan can prevail in this legal challenge he may be eligible for parole on the federal conviction he is also serving. As he put it, "any legal effort is an uphill battle, especially for political prisoners." The PDC has sent a check for $500 to the Jaan Laaman Legal Freedom Fund, P.O. Box 681, East Boston, MA 02128. Funds are urgently needed to hire legal defense to pursue Laaman's appeal. We encourage our supporters to help Jaan Laaman's fight for freedom.
You can read about Jaan Laaman and other class-war prisoners in the online magazine he contributes to: www.4strugglemag.org. Or write to 4strugglemag, P.O. Box 42053, Succ. Jeanne Mance, Montreal, Quebec, H2W 2T3, Canada.